Avoiding peak travel season is one of the best ways to save money on your next vacation. Yet visiting Norway in January isn't everybody's idea of a good time — however cheap the airfare.
That's where traveling during shoulder seasons comes in: These tourist seasons that fall on either side of peak travel dates have fewer crowds, more availability and — most important — lower price tags. This differs from offseason, when certain businesses or experiences may be closed entirely to visitors.
For example, hotel prices in Maui dropped by $365 per night between the peak summer and shoulder fall seasons in 2022, according to data from the travel booking platform Hopper. Those lower prices can have a huge impact on your overall budget. 
See: Tourism is booming again in Hawaii, and it's getting crowded—how to minimize costs and be a mindful visitor
Remote and flexible work has also boosted the appeal of shoulder season. Data from AirDNA, a vacation rental data platform, show the "peak" demand for vacation rentals spread into the shoulder seasons throughout the pandemic. 
But not all shoulder seasons are created equal. Camping in Glacier National Park in the fall might sound like a great way to beat the crowds, until you realize that low temperatures already veer into freezing by October. Some shoulder seasons offer ideal conditions for travel — others not so much. 
Here's how to find a Goldilocks spot: not too hot, not too cold.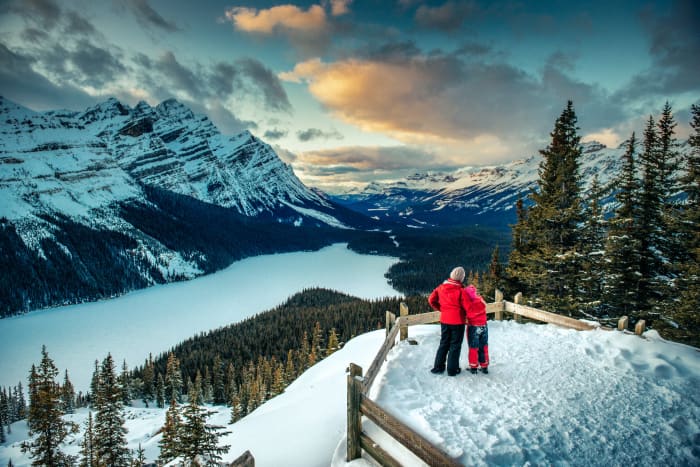 Use a good year-round weather resource
Let's say you're planning a trip to Japan and want to avoid the peak travel season in the summer but aren't sure whether the spring or fall offers better weather conditions. You can simply search for the year-round temperatures in Tokyo to get a rough estimate, or you can dive one level deeper with some meteorological nerdiness. 
A good resource for this is called Weather Spark. It's a bit clunky and ad-ridden, but it includes some extremely helpful data visualizations to make sense of how the weather in a particular destination changes from month to month. 
Despite flight prices being higher during the summer, a Weather Spark graph of Tokyo weather shows that it's actually a lousy time to visit Japan because of high temperatures and humidity. Both taper out, but the humidity remains high in September and relatively low in May.
Also consider the data in the "overcast" section. If clear skies are something you value while traveling, then the early fall offers more of them than the late summer, despite more rainfall overall in the autumn. 
Don't miss: Don't let technology issues ruin your trip abroad: Here's a list of travel-tech do's and don'ts
The calculation ultimately comes down to your personal preferences, which is why having all these data points available is so helpful. If you don't mind rain, you might save money by traveling during a time of high precipitation and moderate temperatures. If you hate humidity and love the sun, you can target the corresponding months. 
Check and ask on forums
Data doesn't always tell the whole story. For example, checking the weather in Maui, Hawaii, can be hugely misleading since the island has many microclimates, which can see completely different patterns throughout the year and even on the same day. Ditto for the Bay Area of California, where fog and chill in San Francisco can give way to warm sun a few miles to the south or east. 
Asking someone who has visited your destination — either a friend, or, say, a group of strangers on a message board — can avoid some data-driven disasters. 
For example, a Tripadvisor thread on the question of the best time to visit Japan included this response: "October and May after 'Golden Week' are the best time to visit Japan, not too hot, not too cold." 
What's this "Golden Week"? Sounds great, right? It's actually a week of national holidays in Japan and a difficult time to travel because of closures and domestic tourists.
Another example: Fire season in the American West, where the weather might seem ideal on paper but can be suffocating on the ground. 
Basically, it's a good idea to check with a real human rather than making a decision based on data alone. Other forums you can turn to include Reddit, Quora or Frommer's.
See: How to avoid those annoying resort fees and the hotels that charge the worst ones
Don't sweat it
Peak travel seasons are usually that way for a reason: They're when the weather is nicest and most travelers have time off. So those choosing a shoulder season in pursuit of thinner crowds and cheaper fares can expect a few raindrops now and then, or the occasional typhoon (early autumn is typhoon season in Japan, by the way). 
Each peak season has two shoulders, and it's all about finding the one that matches your own meteorological preferences. Are cloudy days a no-go? Or do you prefer them for better photo lighting? 
Read next: 10 travel hacks to overcome airline chaos
It all comes down to personal taste. 
But don't let data on websites like Weather Spark make the decision for you. Microclimates, holidays and other unforeseen variables can impact your trip, too. Ask around, or check message boards, before picking shoulders. And pack a raincoat in any case. 
More From NerdWallet
Sam Kemmis writes for NerdWallet. Email: skemmis@nerdwallet.com. Twitter: @samsambutdif.
#Offseason #travel #save #money #weather #data