Union Minister for Road Transport and Highways Nitin Gadkari inspected the Bengaluru-Mysuru Expressway in Karnataka on January 5. He said that the government is striving to reduce the logistics costs through infrastructure development and better connectivity.
Mr. Gadkari went on an aerial survey to take a look at the alignment of the road. Later, he told mediapersons near Ramanagaram, about 45 km from Bengaluru, that the plan is to reduce the logistics cost from 16% to single digits. In comparison, the figure is 12% in the U.S. and 8% to 10% in China.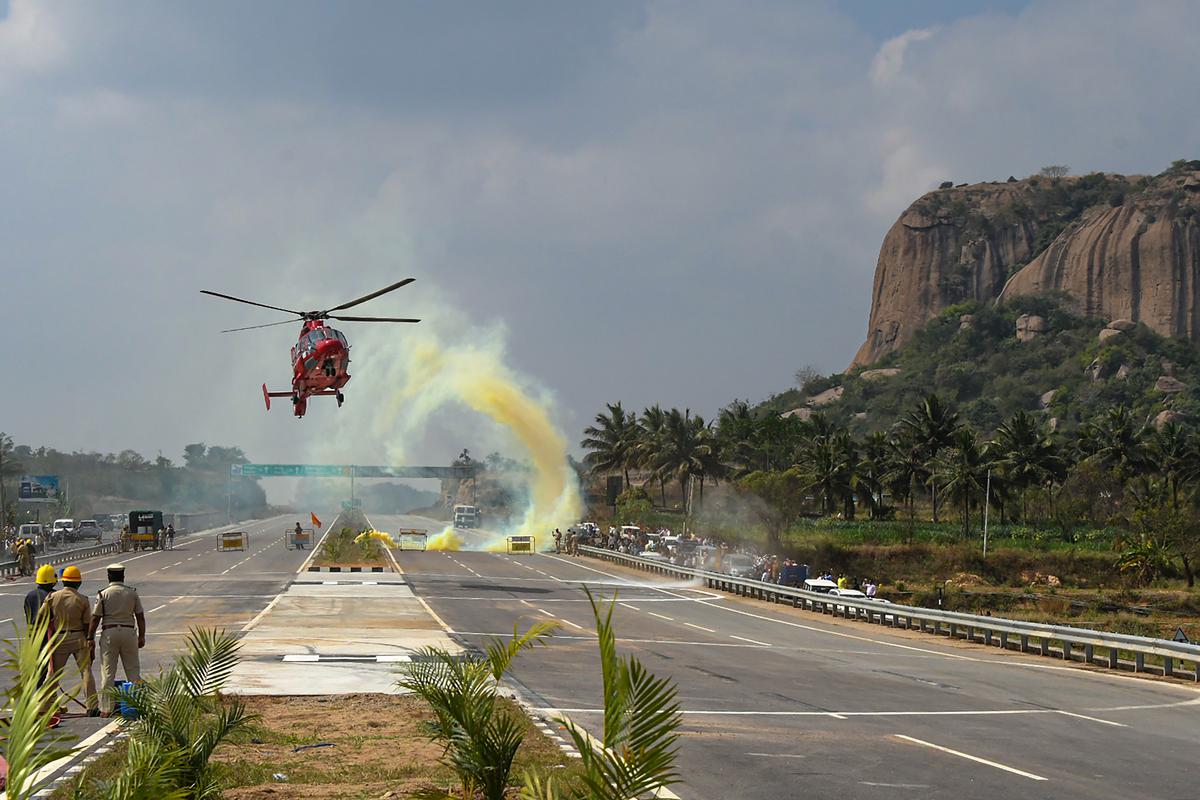 With reference to the Bengaluru-Mysuru Expressway, Mr. Gadkari said the road would be ready by the end of February and would be inaugurated either by the Prime Minister or the President.
Describing the corridor as a catalyst to spur investment along the region, Mr. Gadkari said that it would also help in the industrial development along the corridor and trigger growth of Mysuru, besides Ramanagaram and Mandya.
The Minister expressed confidence that the shorter time travel will encourage the IT sector to invest in Mysuru, adding that the cheaper land rate will make the city attractive for industrialists. It will also give a fillip to the growth of educational institutions in the region.
In reply to criticism by some elected representatives, including Mandya MP Sumalatha Ambareesh, that the highway was 'unscientifically' designed, Mr. Gadkari said they will evaluate the complaints on technical parameters if any specific issues are raised. "The DPRs are prepared by a team of technical experts, and not by politicians," he added.
The problem of waterlogging at Ramanagaram during recent rains is being evaluated and solutions will be incorporated, besides carrying out a road safety audit.
Mr. Gadkari also surveyed the Bengaluru Satellite Town Ring Road being developed at a cost of ₹13,139 crore, and expressed confidence that it would reduce traffic congestion in Bengaluru by allowing smooth movement of freight obviating their entry into the city.
The Bengaluru Satellite Town Ring Road is proposed to be 288-km in length and will connect the Bengaluru suburban areas of Devanahalli, Hoskote, Doddaballapur, Ramanagaram and Anekal. The road will be connected to the multi-nodal logistics park at Dobbaspet and also linked to the proposed Pune-Bengaluru Greenfield Expressway, added Mr. Gadkari who was accompanied by Minister for Higher Education C.N. Ashwath Narayan, Bengaluru Rural MP D.K. Suresh, and Mysuru MP Pratap Simha.
#BengaluruMysuru #expressway #ready #February #Union #Minister #Nitin #Gadkari